Healthier 4U Vending Machines Placed Inside Nellis Air Force Base 0f Nevada
Las Vegas -NV,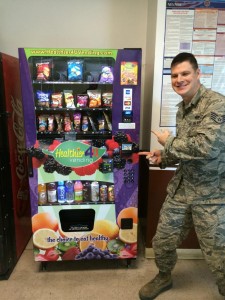 Nellis Air Force Base welcomes the newest troops soldiers in the fight against obesity, Healthy Vending Machines! Healthier4U Vending has recently placed numerous machines around the base. Go Air Force!
Our United States soldiers are our first line of defense and are a prime example of health and fitness. The Nellis AFB soldiers are choosing Healthier 4U Vending as their choice vending machine dispenser because we're an American company and machine manufacturer. We support our troops. Healthier 4u Vending is proud to provide healthy snacks and beverages to our important service men and women.
Healthier 4U Vending – American Made Healthy Vending Machines
When it came time for us to choose a factory to make our Healthy Vending Machines we looked over many options. We wanted the best in the business for numerous reasons including not having to have issues with machines, parts, or stability of manufactures. We chose an 80 year old American Company. We were excited to have the first American Made Healthy Vending Machine as well as technicians, support, and engineers all located here in the States. It just made sense for us to go that route.