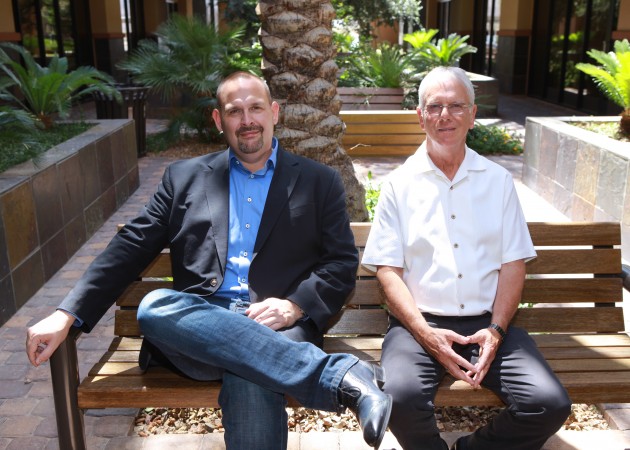 Healthier4U Vending has reached another milestone in business. May 2018 marks the 7-year anniversary for H4U and it has been an amazing journey. Founded in 2011 to become the premiere healthy vending company, Healthier4U Vending has certainly made an impact in the market and changed the face of vending. 
Father and Son duo Del and Brian Swain, founders of Healthier4U Vending, entered the vending market with a combined 40 years of business start-up expertise but no background in vending.
"Traditionally vending was a market I avoided because I didn't like the products and the industry has a checkered reputation. Only when I saw the huge potential of Healthy Vending Machines provided with locations and real business training did I seriously consider this industry." – Del Swain.
The vending business is about locations and Healthy Vending is thinly represented in the marketplace. In 2011 Del and Brian Swain decided it was time to revolutionize the industry and provide not just the best in healthy vending machines, but locations, training and real support for healthy vending affiliates.
"When we came into this industry we were simply under the radar of the bigger competitors and we went to work establishing our now industry renowned vending machine location services. Everyone doubted we could provide American Made Machines with Guaranteed Machine locations and be competitive in price. We don't offer a technology or added feature if we don't directly see how it makes our Affiliates more profitable or efficient. There are many companies trying new technologies on vending machines now and almost all of it costs more money with no added value or sales. We introduce technology when we see it benefits our Affiliates' ability to generate additional profits or increase operational efficiency."   – Brian Swain.
The Healthier4U Vending Affiliate Network consists of over 450 H4U Affiliates Nationwide with over 3,000 Healthy Vending Machines in operation. H4U proudly serve some of the world's biggest hotel chains, gyms, factories, and school systems while doing so without excessive prices or high operating costs. Marriott, Hilton, Mandarin, and Four Seasons Hotels, Fort Knox, Nellis Air force Base, and West Point, Kawasaki Motorcycle Company, Playboy Headquarters, 24-hour Fitness, Golds Gym and YMCA's just to name a few.
Healthier4U Vending's in-house locating services are now the gold standard of the entire industry. H4U was one of the first vending companies to introduce ADA (Americans with Disabilities Act) Compliant Machines and remote access features to allow for debit and credit card use, as well as remote inventory management. We are structured to build profitable local H4U Affiliates, which in turn leads to expansion and additional sales.
"We decided against the true franchise model with restricted territories and fees that slow our Affiliates growth down. Instead, the focus is on teaching our H4U Affiliates how to be profitable and expand their routes with additional machine purchases." – Del Swain.
Healthier4U Vending has made a real and lasting impact in the healthy vending market in just 7 years, with plans to keep innovating. This has helped catapult Healthier4U Vending to be the #1 Fastest Growing Franchise in Franchise Gator's list in 2015.
"I believe that this industry is just starting to accept healthy vending as part of the industry and not view it as a fad. Healthy Vending is not about forcing people to change eating habits, it is about giving those people that choose to eat healthy the opportunity to do just that.  I want to give people more choices to live however they want, and our machine and local H4U Affiliates do just that. These first 7 years were exciting but not nearly as exciting as the coming years. We have the best team of professionals in the industry and our Healthy Vending Affiliates are really taking off. We have placed well over 500 machines in 2016 and surpassed 2,000 locations in 2017. Thanks to the H4U Team, our amazing H4U Affiliates and especially to my Father Del, who all make this revolution possible." – Brian Swain.