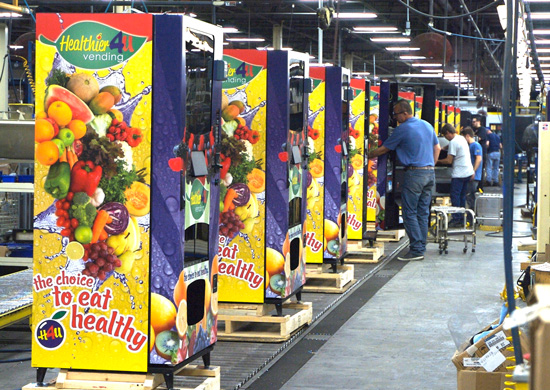 American Healthy Vending Machines
When it came time for us to choose a factory to make our Healthy Vending Machines we looked over many options. We wanted the best in the business for numerous reasons including not having to have issues with machines, parts, or stability of manufactures. We chose an 85 year old American Company. We were excited to have the first American Made Healthy Vending Machine as well as technicians, support, and engineers all located here in the States. It just made sense for us to go that route.
We heard time and again from offshore manufactures and competing companies, that we couldn't supply American Made Machines because they are just too expensive. We decided to prove them wrong, and we have! We continue to prove the industry wrong by providing not just American Machines, but an all inclusive warranty. Parts, labor, and shipping are all covered which gives our H4U Affiliates the comfort and security they need to focus on growing their businesses.
American Engineering and innovation has given us the unprecedented ability to make changes to machines and implement the changes rapidly. This allows us to stay on the cutting edge of technology and take advantage of innovations as they come along. I see competing companies with "cutting edge" machines that are old and outdated. Everything from LED lighting, innovative capacity designs, amazing graphics and presentation, to introducing time saving and efficient technologies gives us the advantage in longevity in this market.
Our machines are a perfect fit into our business model that is all about making our H4U Affiliates as profitable as possible. We have introduced time saving and money making innovations like our custom 16oz and 12oz high capacity can dispensers. Allowing for better utilization of space to get products the customers actually want, vs making machines that look good on paper but don't pencil in practical application. Our partner, The Wittern Group, with 85 years in the business has given us the needed guidance to produce the most highly effective, efficient, price aggressive, and beautiful machine in the market. We know that we have the best in every respect when it comes to our healthy vending machines.
Quality Tested Before Leaving Production Line
We make sure each individual vending machine comes off the production line in premium condition. The machines will arrive ready to stock and sell. The beautifully designed exterior will surely compliment any venue.